22nd Annual Multidisciplinary Research Conference
Covid-19, Lessons Learned & Future Planning
November 26th, 2021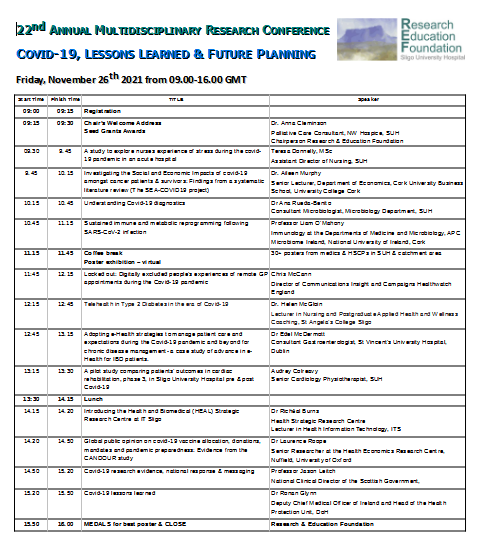 Richéal M. Burns, PhD

×

Richéal M. Burns, PhD

Research Bio

Dr. Richéal Burnsis a lecturer in health information technology at the Department of Health & Nutritional Science, ATU Sligo and an Associate Director of the Health & Biomedical (HEAL) research centre, ATU Sligo – leading the research pillar for health analytics, evaluation and policy. She is an active health economics researcher & has published research across the clinical areas of oncology, infectious disease, mental health and inflammatory bowel disease. Richéal is particularly passionate about highlighting the need for and benefits of health economics scoping and assessment in the early phases of clinical trials and intervention feasibility studies and the importance of the patient experience in economic evaluation techniques.

She is currently supervising three doctoral & two master's research projects: two of these projects are in the clinical area of Inflammatory Bowel Disease. Richéal is also a member of the national INITIative network, which is the first collaborative research network for Inflammatory Bowel Disease in Ireland.

Richéal's particular interest in Inflammatory Bowel Disease stems from her own patient journey having been diagnosed with Crohn's Disease at age 13. Having received IBD care and working with research networks in the US, the UK and Ireland, she can offer a unique perspective on challenges to the patient experience. Richéal acts both as a patient representative and a health economic advisor for the INITIative network.

Dr. Anna Cleminson

×

Dr. Anna Cleminson

Dr Anna Cleminson is a dual qualified GP and Palliative Medicine Consultant, currently works as a Consultant in North West Hospice Sligo. She is passionate about providing high quality health care to people at this crucial stage in their lives and has seen the hugely positive impact that can bring to individuals.

Anna has an interest in medical education and research. She is undertaking a PHD with Lancaster University and has been involved in Palliative Care education in Ireland, Russia, Uganda and Ethiopia. Recently she joined a team providing virtual undergraduate teaching to medical students in Gaza.

Anna currently holds the positions of Chairperson Research & Education Foundation, Chairperson Irish Palliative Medicine Consultants Association and Honorary Senior Lecturer School of Medicine NUIG.

Teresa Donnelly

×

Teresa Donnelly

Assistant Director of Nursing
Nurse Practice Development Unit, Sligo University Hospital

Has worked as a nurse in SUH for 25 years. Her background is in perioperative nursing, operational nurse management and more recently she leads the Nursing Practice Development Unit, which supports pre and post registration nursing staff in developing nursing practice to facilitate high standards of patient focused nursing care. She is currently completing a PHD and her presentation is based on the research she undertook. She is passionate about education and has been involved in the designing and rolling out of programs covering topics such as leadership, professional issues, stress and resilience.

Audrey Colreavy

×

Audrey Colreavy

Senior Cardiology Physiotherapist, SUH

Audrey Colreavy has worked as a physiotherapist in Sligo University Hospital for over 20 years. Her specialist interest is cardiology and rehabilitation. She recently completed her Masters in Health Promotion  at IT Sligo and her presentation at the conference is based on the research she undertook as part of this qualification. She is assistant coach to the U13 local girls' soccer team and has a huge interest in promoting females in sport. She is currently undertaking further studies in Women in Leadership in Sport. She hopes to undertake further research in the area of females in sport/exercise.

Chris McCann

×

Chris McCann

Director of Communications Insight and Campaigns at Healthwatch England

Bio: "Chris joined Healthwatch England in October 2019, prior to this he worked in central Government at the Cabinet Office where he worked as Head of Strategy and Policy for GOV.UK and Head of Media and Strategy Liaison at the Government Digital Service.

He has also worked at the Department for Business as Deputy Head of Strategic Communications and at the Department for International Trade (then known as UKTI) as Head of Media Relations

He has over 20 years of communications and journalism experience starting out as a newspaper reporter before working in local government in his native Northern Ireland." (https://integratedcare.hsj.co.uk/)

Dr. Edel McDermott

×

Dr. Edel McDermott

Consultant Gastroenterologist, Cambridge, UK

"Dr Edel McDermott completed specialist training in gastroenterology and hepatology in Ireland before pursuing a fellowship in advanced endoscopy in Australia. She was appointed as a Consultant Gastroenterologist in Cambridge, UK after completion of a second fellowship in advanced endoscopy and inflammatory bowel disease (IBD) there. Dr McDermott is a specialist in endoscopy, was appointed as the clinical lead for bowel cancer screening in Cambridge and is an expert in endoscopic resections. Her main areas of interest are general gastroenterology, having led on digital innovation in gastroenterology in Cambridge, and IBD, which was the focus of Dr McDermott's PhD". (https://svph.ie/consultant/edel-mcdermott)

Professor Liam O'Mahony

×

Professor Liam O'Mahony

Professor of Immunology at the Deparment of Medicine and Microbiology, APC Microbiome Ireland, NUI Cork

Prof. Liam O'Mahony received his BSc in Microbiology from University College Cork, Ireland in 1994 and his PhD in Immunology was awarded in 1998 by Trinity College Dublin, Ireland. Thereafter, Prof. O'Mahony performed post-doctoral research at the Department of Microbiology, University College Cork, Department of Medicine, University College Cork and the Digestive Diseases Division, UCLA. Dr. O'Mahony was a Principal Investigator at the Alimentary Pharmabiotic Centre, University College Cork, from 2003 to 2008. From 2009 to 2018, he was head of Molecular Immunology at the Swiss Institute of Allergy and Asthma Research, University of Zürich, Switzerland. He is currently the Prof. of Immunology at the Departments of Medicine and Microbiology, APC Microbiome Ireland, National University of Ireland, Cork, Ireland. He is also currently a board member of EAACI and is an Allergy associate editor. His research interests are focused on the molecular basis for microbe and metabolite modulation of mucosal inflammatory responses. In particular, Prof. O'Mahony is investigating the basic mechanisms by which microbes influence immune regulatory networks within the gut, skin and lungs.

Dr. Aileen Murphy

×

Dr. Aileen Murphy

Senior Lecturer in the Department of Economics University College CorK

Dr Aileen Murphy is a Senior Lecturer in the Department of Economics and a graduate of University College Cork (BComm, MEconSc) and University of Glasgow (PhD).

Bio: "Dr Murphy's research focuses on two areas. Firstly, her scholarship is in the application of economic evaluation techniques in examining the cost effectiveness and affordability across a variety of innovations for businesses and institutions in the health area (incorporating quantitative economic modeling techniques) as well as Health Technology Assessments systems. To date this had included assessments of medical devices and interventions across therapeutic areas including maternity and mental health. Since completing her PhD, which was also in the area, she have built up a successful multi- disciplinary academic and industry network, with which she has published in high impact journals and successfully secured competitive research funding". (https://www.cubsucc.com/)

Dr Ronan Glynn

×

Dr Ronan Glynn

Deputy Chief Medical Officer of
Ireland and Head of the Health Protection Unit at the Department of Health

Ronan qualified as a physiotherapist in 2002 and as a medical doctor in 2007. He completed a laboratory based PhD in surgical oncology in 2012 and worked as a Specialist Registrar in ENT before transferring to the Higher Specialist Training Programme in Public Health Medicine in 2014, completing his Masters of Public Health in 2015. In 2018, Ronan was appointed Head of the Health Protection Unit and as Deputy Chief Medical Officer at the Department of Health. He was appointed Acting Chief Medical Officer from July to October 2020 and again from February to April 2021.

Professor Jason Leitch

×

Professor Jason Leitch

Jason Leitch CBE,
National Clinical Director,

Jason has worked for the Scottish Government since 2007 and in January 2015 was appointed as The National Clinical Director in the Health and Social Care Directorate. He is a Scottish Government Director and a member of the Health and Social Care Management Board. He is one of the senior team responsible for the NHS in Scotland.

He is an Honorary Professor at the University of Dundee.

Jason was the 2011 UK Clinician of the Year.

He is a Senior Fellow at the Institute for Healthcare Improvement (IHI). He was a 2005-06 Quality Improvement Fellow at IHI, in Boston, sponsored by the Health Foundation.

Jason is also a trustee of the UK wing of the Indian Rural Evangelical Fellowship which runs orphanages in southeast India.

He has a doctorate from the University of Glasgow, an MPH from Harvard and is a fellow of the Royal College of Surgeons of England, the Royal College of Physicians and Surgeons of Glasgow and the Royal College of Surgeons of Edinburgh.  He is also a Fellow of the Higher Education Academy.

Jason was appointed to NHS England review group led by Don Berwick looking into the patient safety elements of the Francis Inquiry.

Dr. Laurence Roope

×

Dr. Laurence Roope

Dr Laurence Roope is a Senior Researcher at the Health Economics Research Centre (HERC), part of the Nuffield Department of Population Health at the University of Oxford. He joined HERC in January 2013 after completing a PhD in Economics at the University of Manchester. His research interests lie broadly within health economics and development economics. He has particular expertise in the economics of poverty and inequality, and in applying economic principles to tackle global challenges such as antimicrobial resistance and pandemics. His academic work has been published in a variety of prestigious economics and general scientific journals, including Science, Nature Medicine and PNAS.

Dr Roope frequently engages with policy makers and the media to maximise the impact of his research. His work has informed Public Health England's public information campaigns on appropriate antibiotic use. His work on global inequality has featured both in multiple United Nations policy documents (including two flagship United Nations Human Development Reports) and by the World Economic Forum). He has published extensively on economic aspects of COVID-19, and been regularly interviewed and quoted in the media, e.g. appearing as a guest on BBC Radio 4's 'Today Programme' and 'How to Vaccinate the World'.
Dr Roope has worked as a consultant for the United Nations University World Institute for Development Economics Research (UNU-WIDER), and is an External Associate at the Global Development Institute (GDI, University of Manchester). Prior to working in academia he was a professional econometrician in the private sector.

Abstract of presentation: Global public opinion on COVID-19 vaccine allocation, donations, mandates and pandemic preparedness: Evidence from the CANDOUR study

How best to allocate scarce COVID-19 vaccines is an ongoing challenge to governments and the international community. Beyond who should be first-in-line, many countries are deciding whether to make vaccination mandatory, and some have considered whether to allow private purchase of vaccines. Globally, a critical concern is the slow pace of vaccination in low income countries (LIC). While many high-income countries (HIC) have now vaccinated a substantial proportion of their population, many LIC may need to wait until at least 2022 before even the most vulnerable 20% are vaccinated. Beyond ethical considerations, some redistribution of doses would reduce the risk of the emergence and spread of new variants and benefit the economy. However, the willingness of HIC governments to donate vaccine doses is likely to depend on public support.

There is limited evidence on the views of the general public on these issues. Here we outline findings from the first wave of the CANDOUR study, a survey of 15,536 adults in 13 countries. There was a consistent view that priority for scarce vaccines should be given to health workers and those at high risk but also, to a broad range of key workers and those with lower incomes. The public favoured allocating COVID-19 vaccines solely via government programs but was polarized in some countries on mandatory vaccinations. In a subsample of seven HIC, there was strong broad-based support for donating COVID vaccine stockpiles to LIC. There was also strong support and willingness-to-pay for increased future spending on medical research and pandemic prevention measures.

Dr. Helen McGloin

×

Dr. Helen McGloin

Programme Director Undergraduate Nursing at St Angelas College, Sligo

Helen McGloin, PhD Nursing, MSc Physiology, PgDip Education, RGN, NBHWC Certified Health Coach, School of Nursing, Health Science and Disability Studies, St. Angelas College, Sligo.

Helen is a nurse lecturer with a long-standing interest in patient empowerment in chronic illness and the use of health and wellness coaching in supporting health behaviour change. Her PhD developed and explored the use of remote health coaching to support lifestyle change for patients with type 2 diabetes using the Medical Research Council framework for the development of complex interventions. She has recently led a team in publishing a Cochrane systematic review of psychological interventions for treating and preventing diabetic foot ulceration. Prior to this she was principal investigator in a HSE funded clinical effectiveness trial of telehealth for people with type 2 diabetes transitioning to insulin in partnership with the HSE Long Term Conditions group Donegal. Currently Helen is a panel member of the COMPARE-EU guideline development group which is using network meta-analysis to formulate recommendations for the most effective self-management interventions in type 2 diabetes. On the academic front Helen is the programme lead for the Postgraduate Diploma in Applied Health and Wellness Coaching at St Angelas College Sligo which facilitates healthcare practitioners to develop coaching knowledge and skills to support health and lifestyle behaviour change for people with chronic illness (http://www.nuigalway.ie/stangelas/courses/postgraduate-courses-stand-alonemodules/applied-health-and-wellness-coaching/). She is a National Board Certified Health and Wellness Coach (NBHWC) accredited by the United States Board of Medical examiners and has a number of years' experience in online course delivery and remote health coaching via telephone, skype, Adobe Connect and Kaltura.

Abstract of Presentation:
TITLE: Telehealth in Type 2 Diabetes – key findings and recommendations KEYWORDS: Telehealth, remote patient monitoring, empowerment, self-management, type 2 diabetes LEARNING OBJECTIVES: Summarize outcomes of an evaluation study of telehealth in type 2 diabetes; Identify challenges and concerns in requirements to implement and evaluate telehealth ABSTRACT TEXT: Advances in technology in healthcare are enabling a data and information revolution. There is a lot of evidence around the utility and feasibility of telehealth in the remote monitoring and management of chronic illness to facilitate the ongoing tracking of and response to clinical variables. The desired outcome is enhanced patient confidence and skills to manage the physical, emotional, and social impacts of diabetes in their daily lives. Patients who feel empowered by their health care practitioner develop a greater sense of self-control, which may lead to better glycaemic control. A lack of clarity on what constitutes empowerment in the electronic health context means that evaluating patient empowerment associated with eHealth technology is challenging. There are challenges and hurdles in the early stages of incorporating technology into clinical practice with some practitioners liking the experience to a data 'Tsunami' and reporting issues around integrating technology with current care delivery. This presentation will discuss the implementation and evaluation of telehealth in a type 2 diabetes population transitioning to insulin therapy in the Northwest of Ireland. The key practice, policy, and research recommendations from the study will be discussed. The learning from this study will be related to the rapid move to telehealth for supporting people with type 2 diabetes during COVID-19 and the learning that can now occur through reflection on experience or through further research.

Dr. Ana Rueda Benito

×

Dr. Ana Rueda Benito

Consultant Microbiologist Microbiology Laboratory SUH

Dr Ana Rueda-Benito is the Consultant Microbiologist in Sligo University Hospital since May 2018. She got her Medical degree in University of Alcalá de Henares and did her first speciality training as a Family and Community Medicine specialist in Hospital de Cabueñes in Gijón (Asturias). After working as a GP for about 15 years, she started her second specialist training in Clinical Microbiology in Hospital Central de Asturias, in Oviedo. She has always had a special interest in the clinical aspects of Microbiology, and how diagnostics can influence the patient's treatment, which is why the favourite component of her speciality is Antimicrobial Stewardship. She had the opportunity of developing this interest when offered the Consultant Microbiologist post in Sligo, in 2018. The COVID pandemic has changed many things in her daily duties, and therefore her focus more recently has been on molecular diagnostics.